Oregon Dungeness Crab Season 2009 - 2010 is ON!
We've got 300 traps (dungie prisons) soaking on the bottom of the Pacific waiting for Midnight Tonight (Dec 1st) to be allowed to pull them. Be heading out in a few hours to start pulling once the clock strikes twelve and hope our boat doesn't turn into a pumpkin.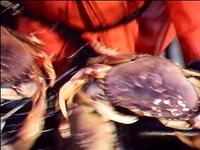 Hope to see LOTS of these
Stay tuned, we'll have video and reports as we get our first load offloaded with hopefully a chock full boat of fine fresh Dungeness crab ready for the cannery & your local fish monger.
UPDATE: Dec 2nd:
Best crabbing we've ever seen & the weather was great. We brought in 16,000 pounds -- The Harvester was overflowing with crab, in the hold, on the deck. We couldn't have gotten one more crab on the boat without dumping some of the crew (tempting ha ha). We're heading back out as the price is locked at $1.75 till tomorrow, when we think the price will probably go down, so we're trying to get as much in at that price as possible. It's GO GO GO for a week and then we'll get some video and pictures up. Pretty amazing start to the season.
cheers
UPDATE: Dec 4th:
Good lord !! 17,529 lbs second delivery day three. sush dont tell anyone!
UPDATE: Dec 6th
The crab count is over 50,000 lbs in five days. This is the already more than we caught for all of December last year. It's simply AMAZING
-Capt. Tyler & Harvester Crew